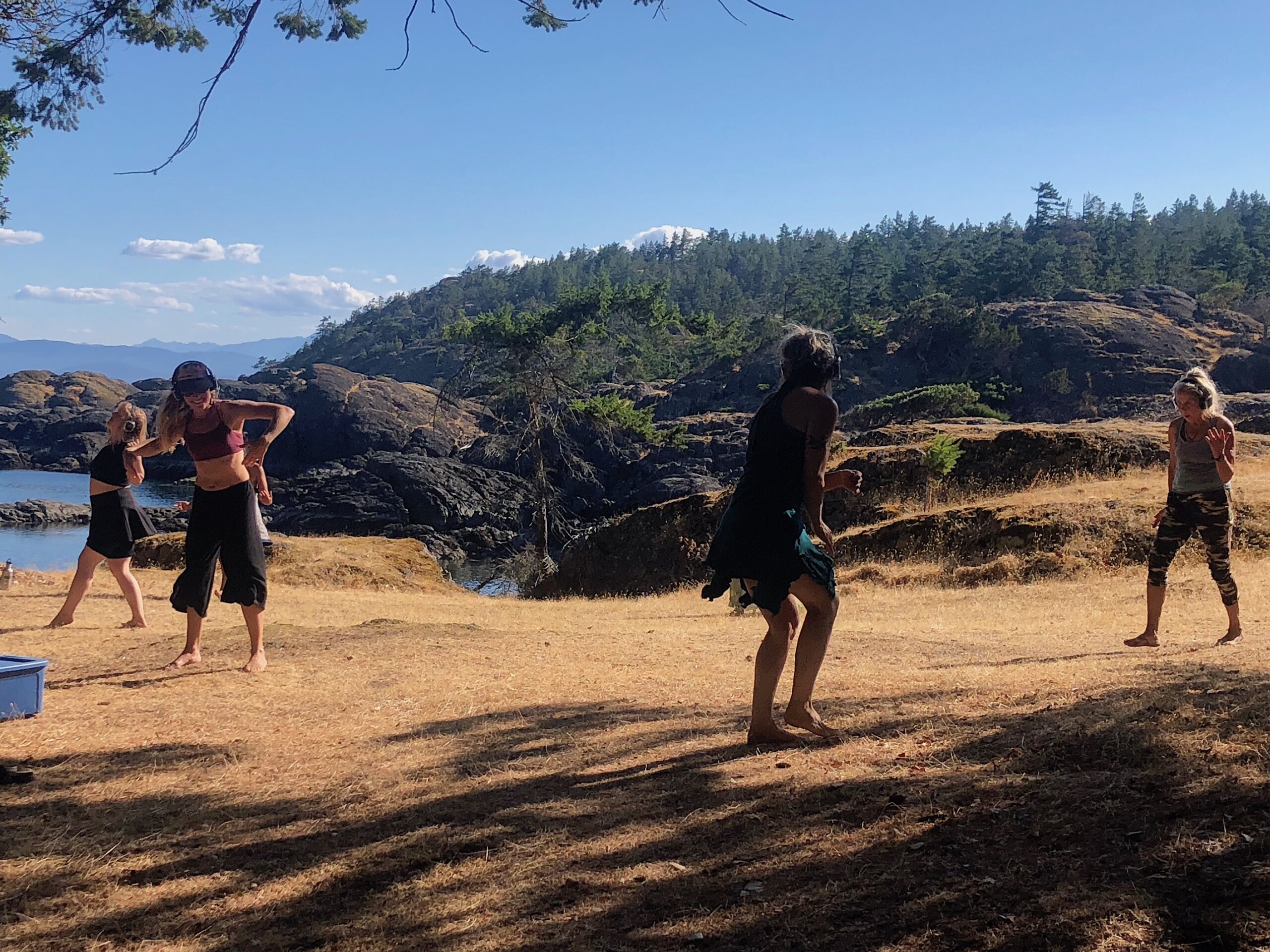 Outdoor Silent Disco Classes 
The beginning of the pandemic in March, 2020 brought about many changes to dance floors and 5Rhythms® classes around the world. As indoor studios were closed around the globe, teachers were faced with the challenge of learning to quickly pivot to other means of teaching if they wanted to continue offering any classes.
After one year of teaching classes on-line via Zoom, Julie needed to find a way to return to some form of in-person teaching. Thus, she invested in purchasing a set of 30 Silent Disco headphones, which use a radio frequency to transmit the music, and her hugely successful outdoor classes were born. This was one of the greatest gifts of Covid, as dancers in the Sunshine Coast community were able to gather outdoors, in a safe and physically distanced way, and participate in a 5Rhythms® class. As indoor dance spaces re-open, and indoor classes return, Julie continues to work with the headphones offering outdoor classes and workshops.
The venue for these outdoor classes changes, and can be anywhere from the forest, to a field, to a sandy beach. The experience of moving to the beat while feeling the sun on your face, the wind in your hair, and your feet on the earth is unparalleled. There is nothing like dancing with the music enveloping you while you watch eagles soar above, or sea life swim by.
Outdoor classes are weather dependent, and therefore the exact time and location are usually only announced within 48hrs of the start time of the class. The announcement is made largely through social media, so make sure to follow Julie's social media accounts. 
NEXT OUTDOOR CLASS:
SATURDAY MAY 13th ~ ROBERTS CREEK SANDY BEACH
4:00 – 5: 00 PM l $20 via e-transfer ([email protected]) or bring cash to the beach
Please plan to arrive at the sandbar before 4pm to pick up your headphones. Bring a water bottle and wear a hat/sunscreen… it's going to be hot! Maybe even a swimsuit and towel for jumping in the ocean after dancing ?! See you there.